Western Welcome Newcomers
of Josephine County, Oregon
Western Welcome Newcomers Events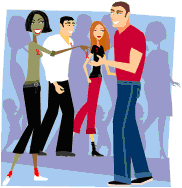 Western Welcome Newcomers has many activities for its members. These are made up of different events of three types: the regularly scheduled Club Meetings, Special Interest Groups and Parties.
The Club Meetings are described on the Home page. As a non-member, it is to one of these meetings that you will come, get introduced to the club, see what the club has to offer and, perhaps, join.
The Special Interest Groups are focused around a particular common activity such as Crafts, Bowling, Golf, Cards, Mexican Train, Literary, etc. As long as there is a chairperson to be responsible for setting up and organizing the activities, there will continue to be that group. Some of the activities have been on hold because of Covid but we're hoping to get back to normal soon.
Special Events occur about once a month. They come under the auspices of the Activities Chair. This person or persons, like the Special Interest Groups, is not in charge of organizing all the parties, but finding volunteers to put on one of the events. Again, the responsibility is parceled out and no one is overloaded. The parties are not always the same type. There is usually a Newcomers Picnic in August, a St Patrick's Day Dinner and a Christmas Party. The rest of the months will have some other event which might be something like a Turkey Shoot (bowling tourney and pizza party) a Hookers Ball (Valentine's Day Dance), a Sock Hop, a Pig Roast, a River Float, etc. It all depends on who wants to volunteer to help on the shindig, what volunteers can be found to help with the organization, the setup, the service, and the cleanup. As long as there is someone to help and some imagination, there will continue to be these parties.
Western Welcome Newcomers is a non-profit, Social Organization. For it to work, for you to meet compatible people to be your friends, you have to participate. Start by going to the Club Meetings. Volunteer to join and help in a Special Interest Group if any of those groups interest you. Volunteer to be a helper on one of the parties, or be one of the organizers for one. Volunteer to be one of the Newcomers Chairpersons or Officers. These are the jobs that make Newcomers work, that allow people to meet people and enjoy themselves. Get involved.
---
Western Welcome Newcomers
P.O. Box 386
Grants Pass, OR 97528

If there are any problems, questions or comments concerning the content of this site, please contact the webmaster at