Western Welcome Newcomers
of Josephine County, Oregon
Josephine County Newcomers History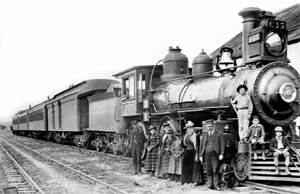 The idea of Western Welcome Newcomers was formed in 1986 when Nancy Toupin wanted to get acquainted with other new people in the area. With the help of Barbara Read, the Western Welcome Hostess for Josephine County, Nancy invited other newcomers into her home. Eight people attended that first meeting. As the group became larger, a monthly get together was held at Mrs. G's Restaurant for coffee and doughnuts.
Later in 1986, meetings were moved to Elmer's Pancake & Steak House. Generally there was a speaker and a no host luncheon offered. However, there was still no structured club formed with dues or bylaws.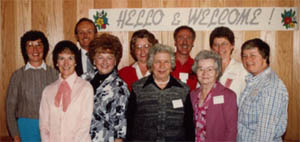 General Meeting, May 26, 1987 at Elmers
In May 1987, an organizational meeting was held and Verna Mae Shoemaker was made president. Seventeen charter members joined, and officers were elected. The constant and rapid growth of the club made it necessary to move the monthly meetings to the Vitality Center at 4th and "L" Streets in Grants Pass. A speaker and entertainment were provided; door prizes were given, and a no host luncheon served at noon. Sneak Preview Editor Curtis Hayden was one of our speakers in 1987.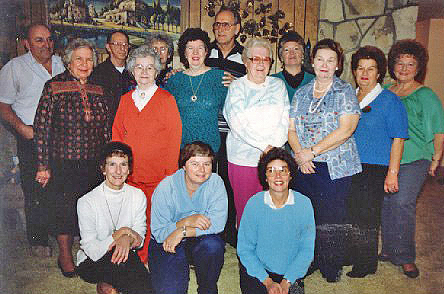 Board meeting at Verna's Dec. 1987
The club continued to grow and February 1988, over 80 people attended the General Meeting.
The main function of Welcome Newcomers is primarily a social one, bringing new people into our community in contact with others who have the same interests and hobbies. Both men and women make up the membership, and family type activities are planned for group entertainment. In addition, there are functions like barbecues, Rogue River excursions, Rogue Community College summer musicals, bus trips, campouts, and potlucks. There is active participation in a monthly crafts meeting, singing, and making an interesting year for Western Welcome Newcomer members.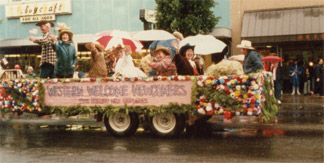 The first time Newcomers was in a Grants Pass parade
Our club seems to represent the general influx of retirees moving to Southern Oregon. The average person in attendance would be in the 40 to 80 year old bracket. Since 1986, when eight people gathered together in a home for a social meeting, Western Welcome Newcomers has become a fully structured, non profit organization with a membership of 162 as of June 1, 1989. As of June 1, 2006, that membership had reached 530
---
Western Welcome Newcomers
P.O. Box 386
Grants Pass, OR 97528

If there are any problems, questions or comments concerning the content of this site, please contact the webmaster at