Western Welcome Newcomers
of Josephine County, Oregon
Meet People at Western Welcome Newcomers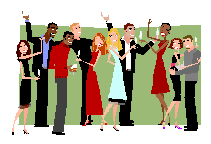 Welcome to the Western Welcome Newcomers website!
Western Welcome Newcomers (WWN) is an Oregon non-profit corporation whose residents share common interests. Membership in the organization is $15.00 per person, for one year. Membership is payable on June 1, every year, and may be prorated depending on the date joined. The organization sponsors many different social events, which offer a variety of interests.
The group meets for a general meeting on the last Tuesday of every month (except December). There is a speaker or other entertainment. Afterwards there is a general business meeting where upcoming events are discussed.
The meeting is generally held at the Fruitdale Grange located at 1440 Parkdale Drive, Grants Pass, Oregon 97527.
The doors open at 9:30 am, and the meeting begins at 10:00 am. So, find a seat, and settle in for a great way to learn about our community and share what's gone on that month. One of the best ways to meet people and friends in this community is to become involved in Western Welcome Newcomers. Bring a friend and help us grow the group!
---
Western Welcome Newcomers
P.O. Box 386
Grants Pass, OR 97528

If there are any problems, questions or comments concerning the content of this site, please contact the webmaster at