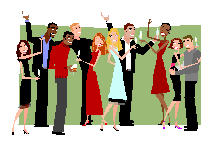 Western Welcome Newcomers is an Oregon non-profit corporation. It is comprised of a group of people who are new to Josephine County and wish to locate a means of finding social contacts.
The group meets for a general meeting on the last Thursday of every month (except December). There is a speaker or other entertainment for about an hour, then lunch is served. Afterwards there is a general business meeting where upcoming events are discussed. RESERVATIONS are REQUIRED for the luncheon and must be made on or before the Saturday before the meeting. To determine the price and location, please call the Reservations person listed in the column on the left of this page. There is a nominal fee if you wish to attend the luncheon and just have coffe and tea without the buffet. The cost of lunch or beverage is payable at the luncheon.
Meetings begin at 10:30 am, but it is best to get there about one half an hour early to register, find a seat, and to socialize.
Membership in the organization is $15.00 per person, for one year. Membership is payable on June 1, every year, and is prorated upon joining. The requirements for joining are that you are a Josephine County resident and have been so for less than two years. There are exceptions outlined in the constitution and bylaws.
The best way to make friends in your new community is to become involved in Western Welcome Newcomers.